Honors to Mr. and Mrs. Eugene Dudas of Lancaster on the celebration of their 50th wedding anniversary.
The occasion was commemorated with a family vacation at Peak 'N Peak and a gathering of family and friends in their daughter's home. Maryann (nee Douglas) is retired from M&T Bank. Mr. Dudas is a retired Union Carpenter. The couple has seven children and 16 grandchildren.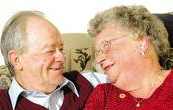 Happy upcoming first wedding anniversary to June and Ray Butler.
June, 76, is a retired banker from Butler, NJ. Ray, 73, is a retired member of the UBC's New York City District Council. June has three children, four grandchildren; Raymond has two living children, one deceased son, nine grandchildren and one great-grandchild. Their previous spouses are deceased. Both are active in their church and enjoy dancing, canasta, traveling and getting to know one another. They are making their home in McMichaels, Pennsylvania.




May there be many wonderful years ahead for Kimberly D'Amore and Robert O'Driscoll who recently announced their engagement. The future bride is a registered nurse at Richmond University Medical Center, West Brighton. The bridegroom-to-be has a bachelor of science degree in telecommunications from St. John's University, Grymes Hill. He is a Union Carpenter with Local 608, Manhattan. An April 2008 wedding is being planned.